Laura Herts – A Won Woman Show
16 juillet 2019 à 20 h 15 min

-

28 juillet 2019 à 20 h 15 min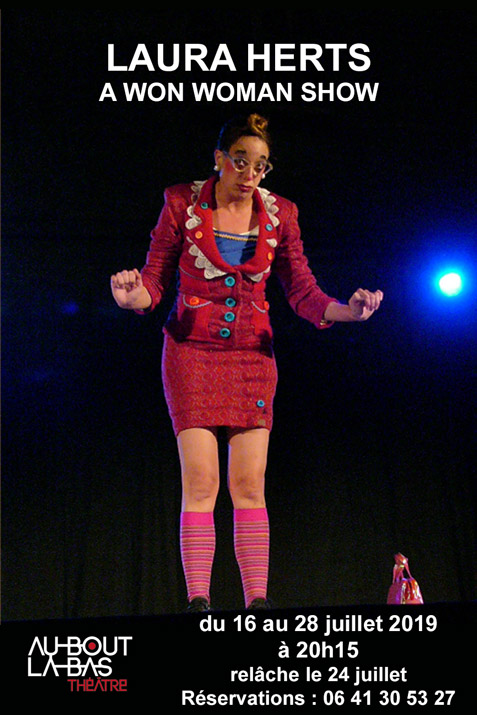 A Won Woman Show
Laura Herts Madame 100,0000 Volts
Clown déjanté
Créé par Laura Herts
Regard extérieur Jango Edwards
du 16 au 28 juillet 2019 à 20h15
relâche le 24 juillet
Laura Herts est une des rares artistes qui maîtrise l'art du mime et du clown. Son style propre dévoile un monde bien propre à elle pour nous toucher nous
tous. À travers le comique visuel, avec irrévérence elle design ses observations, réflexions sur un monde déshumanisant et machiste. Laura partage sa vision de l'injustice sociale avec lucidité par un humour physique, l'auto dérision et l'esprit Rock n' Roll.
C'est un hymne à l'Amour par une révoltée.
Biography:
Great-great-niece of the Marx family, she's the worthy descendent of Groucho.
A childhood passion…
At the age on 19, once obtained her diploma from the Arts' School of Baltimore, she went on tour to Europe determined to evolve in the art of mime and clown, a childhood passion. She first made a stop in Belgium to study with Saïdi Lassaäd at The International School of Mime in Brussels. Continuing her quest, she landed in Paris in 1987 to follow successively the teaching of Jacques Lecocq, Daniel Stein and Philippe Gaullier.
Enriched from the experience of learning and practising Physical Theater, Clown, Neutral Mask, Mime, Object Theater, combined with the School of z'a Street, she created a world of clown-comedy derived from the self and observation of the outer world, which makes her really «out-there».
Laura is a theatre author, comedian, director and a teacher.
Laura first show,The Last Tangle In Paradise, was created in 1992 and immeditely received a great international sucess. Electric Lazy Land, her second show was created in 1997. In 2002 Laura wrote A Won Woman Show which made its first appearance in Brazil and since then, this extraordinary comedy, has been touring worldwide. A Won Woman Show has to be considered her major work and performance as an actress and it is the achivement of her carrier.
In 2004 Laura wrote, directed and played in The Shooting Stars with a team of four comedians.
Laura is also invited to perform with ones of the major clowns of the international scene like the famous russian clown Slava Polunin, René Bazinet from the «Cirque du Soleil» and Jango Ewards, with whom she co-produced Classic Duo in 2008.
Since several years Laura Herts is invited in several countries worldwide to direct masterclass and workshops.